Alumna Spotlight: Hillarie Smith
January 11, 2018
Category: News
We had the opportunity to catch up with one of our awesome alumnae, Hillarie Smith, and talk to her about her faith, her time in Phi Lamb, and her cool new venture, Perceive It Pretty.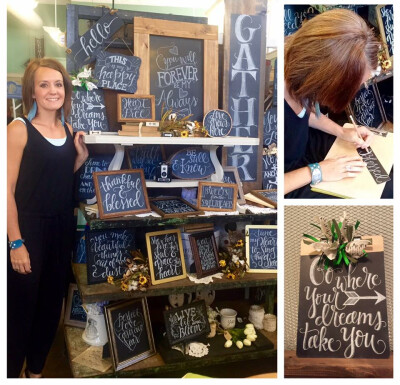 Give us a little background about you and your family.
Hi! My name is Hillarie Smith and I am an alumna of Texas Tech University. I was in Phi Lamb for three years in college and served as chaplain, on the Texas Tech Alumnae Council, and as a Board Member. I am a mom of 3 kind, creative and active boys who are 13, 9, and 7. I have been married to my amazing husband for 17 years, and we have lived in the Austin area for the past 12 years. Our family loves to be outside, to go kayaking and hiking, to play soccer and music, and to fill our time being "makers!"
Tell us about your business, Perceive it Pretty. How did you begin this work? What is your favorite aspect of it?
In 2015, after 10 years of church ministry, I stepped away for a time of renewal and rest. Each January I ask the Lord to show me a focus word or words that can keep me connected to His heart and plan for the year. My word in 2015 was "awareness" and the verse God was using to speak to me was from Isaiah 43:19 "See, I am doing a new thing! Now it springs up; do you not perceive it? I am making a way in the wilderness and streams in the wasteland." I was learning so much about how our awareness, how we perceive and look at the world, makes a big impact on our lives. In our minds and hearts, the power of perception and the use of words can create such life and strength.
When I first started using my own chalkboard at home, I loved to draw out Bible verses or song lyrics that I felt brought encouragement to me. Each time I would glance at my chalkboard I found that my perspective about my little world was being formed and strengthened by those little words. As 2015 progressed, I began drawing words and designs on chalkboards for my friends who were giving them as gifts to encourage one another. It was so exciting to be making designs and drawings that were helping people experience the life-giving encouragement found in "strong words": words shared with PURPOSE and TRUTH and BEAUTY that "speak strong" to hearts and bring life and strength. God was using little words out of chalk to make beauty out of dust and bring streams of nourishment to the desert places. Soon my little hobby became a work load, and my work load grew and grew, and I realized that God was birthing a little business: Perceive It Pretty! Perceive It Pretty Chalkboards are custom made and hand drawn for customers who have found inspiration in specific words and order a chalkboard in hopes of having those inspirational words as permanent art...whether as a gift for a friend or for themselves.
How has your experience in Phi Lamb impacted who you are today?
God used Phi Lamb as a beautiful rescue for me in college! During the beginning of that season of my life, I struggled with a broken family and a deep depression. Meeting friends who would pray for me and love me and encourage me during such a dark time, helped me to lean into the Lord with my broken heart. In the decade following college, I received the same support and love and encouragement from the Lord through my Phi Lamb friends. God has reminded me over and over again through Phi Lamb how deep His love is for us and how real His presence is with us…He truly is the God who gives endurance and encouragement!
What is one of your favorite memories from your time in Phi Lamb?
My all-time, favorite thing about Phi Lamb, was the "one voice" that we had as we sang in worship together! Through the years, any time I have had the opportunity to sing with a group of women, it immediately takes me back to those Monday night chapter meetings and singing together. I am so thankful for the gift of getting to glorify God with one heart and mouth in song!!