Organizational Structure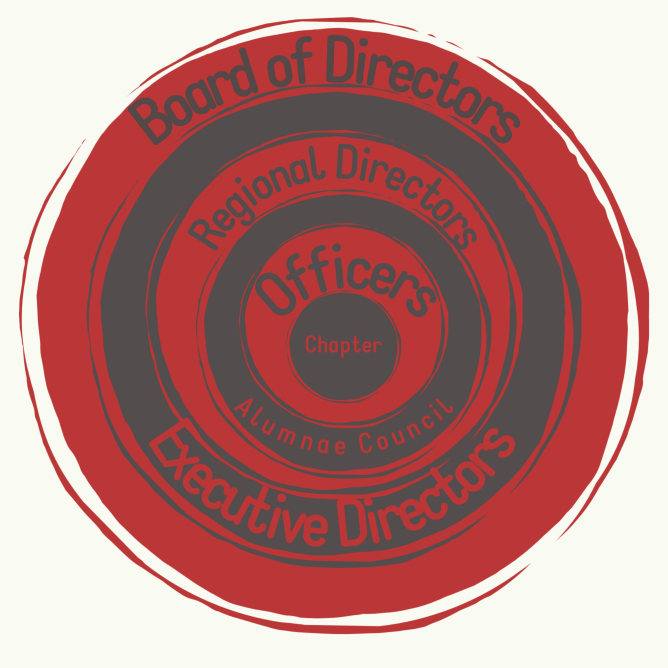 Board of Directors
Sigma Phi Lambda is governed by a Board of Directors. Five alumnae from various chapters coordinate national policy, vision, and direction.
Executive Directors
The Executive Director of Chapter Operations oversees the daily operations of Phi Lamb chapter administration on a national level, trains chapter leaders throughout the year, and provides oversight of the Regional Directors.
The Executive Director of Expansion promotes the name and purpose of Phi Lamb through prospective chapters, alumnae relations, fundraising, and marketing.
Both Executive Directors work together to train officers and prospective chapters, visit chapters, and plan National events.
Regional Directors

Regional Directors each oversee about 10 chapters by providing guidance and ensuring that the chapters run smoothly and effectively while working very closely with each chapter's officer team.
Alumnae Councils
After a chapter has been established long enough to have alumnae, an Alumnae Council may be formed. These women can be former officers or founding mothers of that chapter. The Alumnae Council provides guidance to the chapter and assistance to the Regional Director.
Officers
Five officers are elected yearly in each chapter. The offices are President, Vice President, Chaplain, Secretary, and Treasurer. These officers maintain the daily functions of the chapter and lead the members of their chapter.