Alumna Spotlight: The Reliques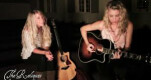 We are excited to feature two singing ladies in this edition of the Alumnae Spotlight! The Reliques, Sarah Monteen and Sarah Dossey are stirring the hearts in their community with their songs of God's love and grace. Click here to learn more about this fabulous folk duo. They will released their first full-length CD "Leaving Montogomery" this year. The Reliques will be leading worship and performing concert at One Heart 2014 as well.
Says Monteen, "We do music because it's in our souls and we can't help but do it. This is what God has put in us- we just hope when the music hits people they are stronger because of it.
Sarah Monteen explains how Phi Lamb has impacted her life to this day. "If it wasn't for Phi Lamb, Sarah and I probably wouldn't know each other! We met in Phi Lamb and continue to have community with many girls we knew from Phi Lamb. The single greatest thing that came out of our experience are the relationships we made and it's hard to even express in words what kind of impact a friendship can make in one's life. Our sisters have been shoulders to cry on, bridesmaids in our wedding, encouragement on hard days (even if they are in other cities), etc. Phi Lamb was where we formed our own little spiritual families- ones that continue on even today. "
Her bandmate also agrees, "All of my college roommates were Lambies. They all still happen to be my best friends, I mean, other than Sarah, of course... who I also met in Phi Lamb. But, she's mostly my sister."
Monteen explains that her favorite memory from her days in Phi Lamb was Rush videos; "RUSH VIDEOS! We had so much fun making crazy, embarrassing videos for rush week. I remember dressing up in a hideous pink sequined outfit with a side ponytail, rolling on the floor while singing "Bright Eyes" in the worst voice I could possibly muster up. I was supposed to be trying out for American Idol in this video. I'm surprised I still had friends after putting on that performance!"
A verse that has had a big impact on Dossey's personal life is Hebrews 1:3. "The Son is the radiance of God's glory and the exact representation of his being, sustaining all things by his powerful word."
This dynamic duo is still involved with Phi Lamb, as they led worship at the 2012 One Heart Retreat, and we are so excited to have them back this year! We hope that you will be there to worship with them and see their live concert, but if you can't make it, you should definitely check out their music. They are great musicians and exceptional women. We are proud to call them our sisters!