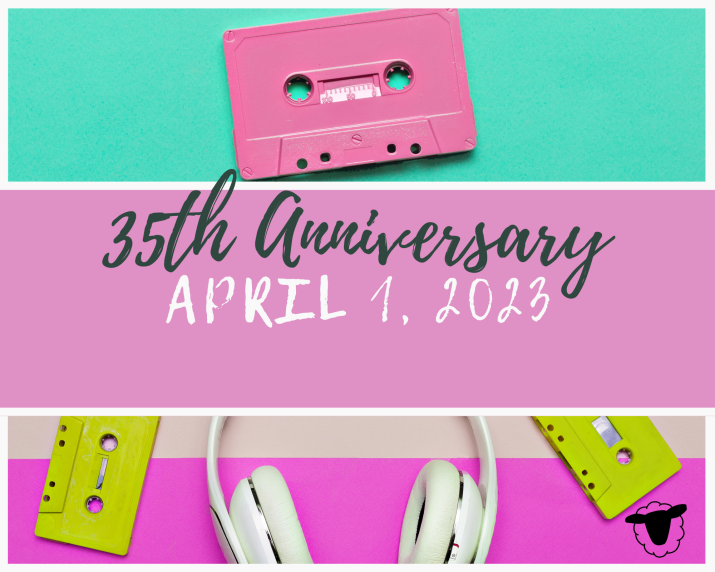 35th Anniversary Celebration
We sincerely hope that all of our alumnae will be able to join us at one of our chapters on April 1, 2023 to celebrate 35 years of Phi Lamb! We are forever grateful to the women who have gone before us to create a strong foundation for our organization on so many college campuses across the country and are excited for our current members to continue the tradition of make God's name great on their campuses.


Registration
We kindly ask that all Alumnae Register by March 25th. You may attend an event at any one of our chapters - you do not have to attend at the university you attended! There is no cost to attend a 35th Anniversary Event. However, if you do choose to make a donation when you register, that donation will be given to the chapter where you are attending to help them offset their costs.
Merchandise
Our 35th Anniversary Merchandise collection has now closed. Our online Phi Lamb store is always open so be sure to check it out!
Chapter Events:
See below for locations and times of events at each chapter. Each chapter will also send out an email to those who have registered prior to the event with additional details. Please continue to check back as details will continue to be added.
University of Texas - Austin
2:00-4:00pm
WCP building
Texas A&M University
3:00pm-5:00pm
Solid Grounds Coffee Shop (Christ Church)
4201 Texas 6 Frontage Rd
College Station, TX 77845
Texas Tech University
10:00am - 12:00pm
First Lubbock
2201 Broadway Lubbock, Tx
Stephen F. Austin
1:30-3:30pm
215 E College St.
Nacogdoches, TX 75965
Texas State University
1:00-3:00pm
420 Riverside Dr San Marcos, TX 78666
Houston Christian University
12:00-2:00pm
McNair Hall
7502 Fondren Rd, Houston, TX 77074
University of Oklahoma
7:00pm-8:00pm
PinkBerry
323 W Boyd St
Norman, OK 73069
University of Florida
12:00pm-2:00pm
Matthews Suite, Reitz Union
655 Reitz Union Dr
Unit 1100, FL 1
Gainesville, FL 32611

Tarleton State University
11:00am-1:00pm
Tarleton State University
1333 W Washington
Stephenville, TX
University of Arkansas
12:00-2:00pm
HPER room 316
155 Stadium Dr
Fayetteville AR, 72701
Oklahoma State University
2:00-4:00pm
SSH 035
Mississippi State University
10:00am-12:00pm
Meadowview Baptist Church
300 Linden Lane Starkville, MS
University of Central Oklahoma
1:00-3:00pm
Robert S. Kerr Room (UCO Nigh University Center)
Ole Miss
10:00am-12:00pm
Lamar Park Gazebo
Oxford, MS 38655
Vanderbilt University
2:00-4:00pm
BCM
2406 Vanderbilt Pl, Nashville, TN 37240
University of Tennessee-Knoxville
12:00-2:00pm
Two Rivers Church
275 Harrison Ln, Lenoir City, TN 37772
Auburn University
1:00-3:00pm
Bitty & Beau's Coffee
100 N Gay St, Auburn, AL 36830
University of Tennessee-Chattanooga
11:00am - 1:00pm
White Oak Park
2 Midvale Ave E
Red Bank, TN 37415
Texas Christian University
10:00am-12:00pm
Trinity Park
2200 Trinity Park Dr,
Fort Worth, TX 76107
Texas Woman's University
6:00-8:00pm
TWU Student Union Auditorium, 1st floor
301 Administration Dr, Denton, TX 76201
West Texas A&M University
6:00-8:00pm
AC Ballroom
2620 Russell Long Blvd
Canyon, TX 79015
Southwestern Oklahoma State University
11:00am-1:00pm
Business Enterprise Center
1121 N 7th St
Weatherford, OK 73096
The Ohio State University
10:00am-1:00pm
Fisher Commons Apartment Complex
900 Nettle Dr Columbus, OH
Kansas City, MO
11:00am-1:00pm
Cheesecake Factory
On the Plaza
Virtual Alumnae Meeting
11:00am-12:00pm EST
Zoom (link will be sent to those registered by 3/31)